Paul Revere's Ride (Paperback)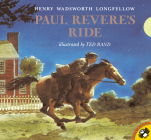 $7.99

Available - We'll have it for you ASAP!
Description
---
Longfellow's tribute to the famous revolutionary hero begins with the stirring cadence that American schoolchildren have committed to memory for over a century. Now illustrator Ted Rand brings these vivid and beautiful lines to life as dramatically as the poet's immortal message inspires."The clatter of hooves seems to echo in Rand's evocative paintings of that famed midnight ride...." --Kirkus reviews
About the Author
---
Henry Wadsworth Longfellow (1807-1882) was the most popular and admired American poet of the nineteenth century. Born in Portland, Maine, and educated at Bowdoin College, Longfellow's ambition was always to become a writer; but until mid-life his first profession was the teaching rather than the production of literature, at his alma mater (1829-35) and then at Harvard (1836-54). His teaching career was punctuated by two extended study-tours of Europe, during which Longfellow made himself fluent in all the major Romance and Germanic languages. Thanks to a fortunate marriage and the growing popularity of his work, from his mid-thirties onwards Longfellow, ensconced in a comfortable Cambridge mansion, was able to devote an increasingly large fraction of his energies to the long narrative historical and mythic poems that made him a household word, especially Evangeline (1847), The Song of Hiawatha (1855), The Courtship of Miles Standish (1858), and Tales of a Wayside Inn (1863, 1872, 1873). Versatile as well as prolific, Longfellow also won fame as a writer of short ballads and lyrics, and experimented in the essay, the short story, the novel, and the verse drama. Taken as a whole, Longfellow's writings show a breadth of literary learning, an understanding of western languages and cultures, unmatched by any American writer of his time.
Praise For…
---
"Longfellow's well-known poem never appeared to better advantage: Rand has created a rich rendition of the Revolutionary landscape."--Publisher's Weekly

"The richly colored, romantic watercolors duplicate Longfellow's imagery, often quite literally, and effectively reinforce the narrative quality of the poem."--School Library Journal 

"Enjoy the famous narrative poem recreating Paul Revere's midnight ride in 1775 to warn the people of the Boston countryside that the British were coming. It never fails to entertain and makes a wonderful read-aloud."--Children's Literature