Racing Against the Odds: The Story of Wendell Scott, Stock Car Racing's African-American Champion (Paperback)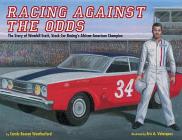 $9.99

Limited Availability - Give us a call, we'll track it down for you!
Description
---
Wendell O. Scott made history as the only black driver to win a race in a NASCAR Grand National (now Spring Cup) division. Born in Danville, Virginia, he scrimped and saved to buy his first car, a Model T, at age fourteen. Although he "loved to turn the wheel of a racecar, work magic on an engine, and then push it faster than it was ever meant to go," he never had the resources or sponsorship to buy a brand-new racecar. Using secondhand Fords that he fixed up in his garage, he competed in five hundred races in NASCAR's top division.
Eric Velasquez's illustrations and Carole Boston Weatherford's rhythmic text illuminate the story of a man who worked full-time while racing on the side. A man who married, raised six children, and educated all of them. A man who "didn't just dust the competition, he blazed a trail." A man who raced against all odds.
An author's note is also included.