A Crown of Swords: Book Seven of 'The Wheel of Time' (CD-Audio)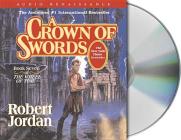 $69.95

Limited Availability - Give us a call, we'll track it down for you!
Other Books in Series
This is book number 7 in the Wheel of Time series.
Description
---
The Wheel of Time is now an original series on Prime Video, starring Rosamund Pike as Moiraine!

In A Crown of Swords, the seventh novel in Robert Jordan's #1 New York Times bestselling epic fantasy series, The Wheel of Time®, a rebellious uprising threatens Rand al'Thor's rule as he prepares to battle an even more dangerous enemy.

Incited by nobles seeking to reclaim their places of power, armies march against the Dragon Reborn. As Rand tries to restore order, he discovers a lack of loyalty even among the warrior Aiel, and still mistrusts the rebel Aes Sedai even though they swore allegiance.

But nothing can stop Rand and his Asha'man soldiers from storming the city of Illian to confront the Forsaken Sammael, and challenge him to a duel of the One Power with the winner taking the Crown of Swords...

Since its debut in 1990, The Wheel of Time® by Robert Jordan has captivated millions of readers around the globe with its scope, originality, and compelling characters. The last six books in series were all instant #1 New York Times bestsellers, and The Eye of the World was named one of America's best-loved novels by PBS's The Great American Read.
The Wheel of Time®
New Spring: The Novel
#1 The Eye of the World
#2 The Great Hunt
#3 The Dragon Reborn
#4 The Shadow Rising
#5 The Fires of Heaven
#6 Lord of Chaos
#7 A Crown of Swords
#8 The Path of Daggers
#9 Winter's Heart
#10 Crossroads of Twilight
#11 Knife of Dreams

By Robert Jordan and Brandon Sanderson
#12 The Gathering Storm
#13 Towers of Midnight
#14 A Memory of Light

By Robert Jordan and Teresa Patterson
The World of Robert Jordan's The Wheel of Time

By Robert Jordan, Harriet McDougal, Alan Romanczuk, and Maria Simons
The Wheel of Time Companion

By Robert Jordan and Amy Romanczuk
Patterns of the Wheel: Coloring Art Based on Robert Jordan's The Wheel of Time
About the Author
---
ROBERT JORDAN (1948-2007) is best known for his internationally bestselling epic fantasy series The Wheel of Time®, which has sold over 40 million copies in North America and is currently being adapted for the screen. A native of Charleston, Jordan graduated from The Citadel, the Military College of South Carolina, with a degree in physics. He served two tours in Vietnam with the U.S. Army and received multiple decorations for his service.
Kate Reading
is the recipient of multiple
AudioFile
Earphones Awards and has been named by
AudioFile
magazine as a "Voice of the Century," as well as the Best Voice in Science Fiction & Fantasy in 2008 and 2009 and Best Voice in Biography & Culture in 2010. She has narrated works by such authors as Jane Austen, Robert Jordan, Edith Wharton, and Sophie Kinsella. Reading has performed at numerous theaters in Washington D.C. and received a Helen Hayes Award for her performance in
Aunt Dan and Lemon
.
AudioFile
magazine reports that, "With subtle control of characters and sense of pacing, Kate's performances are a consistent pleasure."
Michael Kramer has narrated over 100 audiobooks for many bestselling authors. He read all of Robert Jordan's epic Wheel of Time fantasy-adventure series as well as Brandon Sanderson's The Stormlight Archive series. He received AudioFile magazine's Earphones Award for the Kent Family series by John Jakes and for Alan Fulsom's The Day After Tomorrow. Known for his "spot-on character portraits and accents, and his resonant, well-tempered voice" (AudioFile), his work includes recording books for the Library of Congress's Talking Books program for the blind and physically handicapped.

Kramer also works as an actor in the Washington, D.C. area, where he lives with his wife, Jennifer Mendenhall (a.k.a. Kate Reading), and their two children. He has appeared as Lord Rivers in Richard III at The Shakespeare Theatre, Howie/Merlin in The Kennedy Center's production of The Light of Excalibur, Sam Riggs and Frederick Savage in Woody Allen's Central Park West/Riverside Drive, and Dr. Qari Shah in Tony Kushner's Homebody/Kabul at Theatre J.
Praise For…
---
"The two narrators pass the story back and forth seamlessly, keeping their characters well in hand." —AudioFile

"Book Three of the Wheel of Time series finds the wheel of time continuing its journey toward the confrontation of Rand Al Thor, the dragon reborn, and the Dark One. Kate Reading is narrator for one strand of the story; Michael Kramer, for the others. Reading and Kramer are familiar to the series and bring back their distinct and nuanced characterizations of the major characters. The plot and characters are complex, but the book is still able to stand alone. In the hands of these two versatile narrators the audiobook is a good choice, accessible and never dull." —AudioFile on The Dragon Reborn

"The solid performances of Kate Reading and Michael Kramer add a new dimension to the story, especially in the way these veteran narrators breathe life into the inner thoughts of the many major players." —AudioFile on Crossroads of Twiligh