Bob Carlin, "Banjo: An Illustrated History"
Words of Note Festival
Bob Carlin, Banjo: An Illustrated History
Friday, September 24, 7pm
The banjo is emblematic of American country music, and it is at the core of other important musical movements, including jazz and ragtime. The instrument has been adopted by many cultures and has been ingrained into many musical traditions, from Mento music in the Caribbean and dance music in Ireland. Virtuosos such as Bela Fleck have played Bach, African music, and Christmas tunes on the five-string banjo, and the instrument has had a resurgence in pop music with such acts a Mumford and Sons and the Avett Brothers. This book offers the first comprehensive, illustrated history of the banjo in its many forms. It traces the story of the instrument from its roots in West Africa to its birth in the Americas, through its coming of age in the Industrial Revolution and beyond. The book profiles the most important players and spotlights key luthiers and manufacturers. It features 100 milestone instruments with in-depth coverage, including model details and beautiful photos. It offers historical context surrounding the banjo through the ages, from its place in Victorian parlors and speakeasies through its role in the folk boom of the 1950s and 1960s to its place in the hands of songwriter John Hartford and comedian Steve Martin. Folk, jazz, bluegrass, country, and rock the banjo has played an important part in all of these genres. Lavishly illustrated, and thoughtfully written by author, broadcaster, and acclaimed banjoist Bob Carlin, this is a must-have for lovers of fretted instruments, aficionados of roots music, and music history buffs.
BOB CARLIN (Lexington, North Carolina) is an author, researcher, radio and record producer, and one of the best-known banjoists performing today. With over a hundred articles for music magazines such as Fretboard Journal and Bluegrass Unlimited and numerous books, instruction manuals, museum catalogs, and album notes to his credit, Carlin is truly an expert on banjo history. Carlin writes a regular column for the banjo bible, Banjo Newsletter.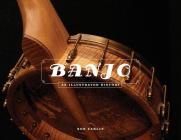 $35.00

ISBN: 9781495011245
Availability: Available - We'll have it for you ASAP!
Published: Backbeat Books - May 1st, 2016
---
Event date:
Friday, September 23, 2016 - 7:00pm