Ellen Fischer: Release Party for "If An Elephant Went to School"
Ellen Fischer: Release Party for If An Elephant Went to School
Saturday, August 15, 11:30am
Would an elephant learn the ABCs if she went to school? No way! She would learn to use her trunk as a nose, a straw, a hand, and a hose! Through a series of questions and answers, readers learn about animals and their unique behaviors. And in the end, you might find yourself asking just what would you learn.
Ellen Fischer grew up in St. Louis, Missouri, but has been a North Carolina Tar Heel for over 30 years. She has taught elementary age children for over 20 years and is the mother of three. She is also the author of If an Armadillo Went to a Restaurant, Latke, the Lucky Dog, and several Sesame Street books, including Grover and Big Bird's Passover Celebration, It's a Mitzvah, Grover!, and The Count's Hanukkah Countdown. Laura Wood is a freelance illustrator currently living in England. She was born and raised in Italy and received a Bachelor of Cinema and Multimedia. She likes to combine both digital and traditional dry media to create childlike pictures with a sunny style and a folksy feeling. Laura Wood is also the illustrator for If an Elephant Went to a Restaurant, Lucy in the City, and The Cow Tripped Over the Moon.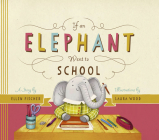 $14.95

ISBN: 9781938063619
Availability: Available - We'll have it for you ASAP!
Published: Mighty Media Kids - August 11th, 2015
---
Event date:
Saturday, August 15, 2015 - 11:30am