Storytime with author Julia Sypher
Children's Storytime with author Julia Sypher
Saturday, Septmber 7, 11am
Join us this week for a special children's storytime with Julia Sypher, author of Ramona Red Dog: Luckiest Dog Around.
Ramona Red Dog is the story of an abandoned puppy who was wandering the streets of Latacunga, Ecuador when she appeared at a school. She was hiding from several dogs who were about to attack her. This story reveals the compassion of a young girl and her commitment to give a hungry, stray dog a better life. Inspired by true events, this is a tale of redemption, adventure, and devotion for a rescued dog.
Julia Sypher is a first time author of a Children's Book. The inspiration for the book is based on her daughter's experience in the Peace Corps in Ecuador when she rescued and adopted a stray dog. Her daughter was teaching English in a boys Vocational School in a small mountain community when she found the dog being attacked. Ramona was brought to the U.S. to live with the author and her husband. Julia and her husband live in Greensboro, North Carolina. She has four daughters and three grandchildren.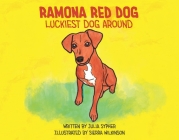 $25.43
ISBN: 9781543964851
Availability: Usually Ships in 1-5 Days
Published: BookBaby - August 4th, 2019
---
Event date:
Saturday, September 7, 2019 - 11:00am